"Material Reality"
Sherry Trachtman and Jenny Wu
Jan 9 - Feb 27, 2021
Fred Schnider Gallery of Art
Arlington, VA
Washington Post Review can be found in Press section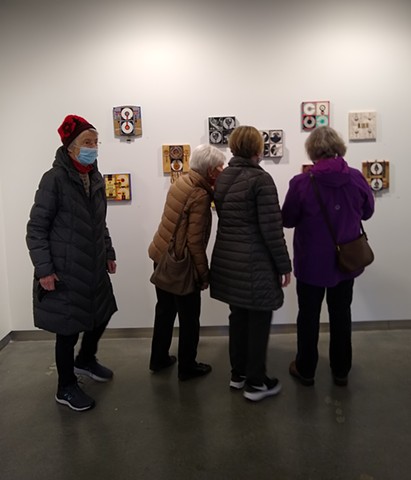 My half century art journey, has enabled me to build a strong skill set. I've explored printmaking, graphic design, drawing, painting, mosaics, collage, 3D assemblage and sculpture. These non-linear pursuits inform and build on each other.
My assemblages are largely material driven. Small objects available in multiples, especially cylindrical or round forms, spark me. I challenge myself to reinvent their meanings and functions in as many directions as I can: narrative, political, humorous, symbolic, tactile, spatial and over all, visual.
In 2021, "Material Reality" showcased my "Floppy Disk Series". The obsolete floppy disks and their cases form circle- in- a- square configurations that offered me explorations in geometric design, and many narrative ideas.